Get ready? Now you will not walk, but ride! The Model S is a balance bike that children can ride just as soon as they learn to walk. Thanks to the special three-wheeled design, they'll love riding at once and will easily switch to a two-wheeled bike later on. With the Model S, you will also be impressed by its low weight, maintenance-free soft wheels, durability and original design. Simply pure joy transformed into a child's toy. More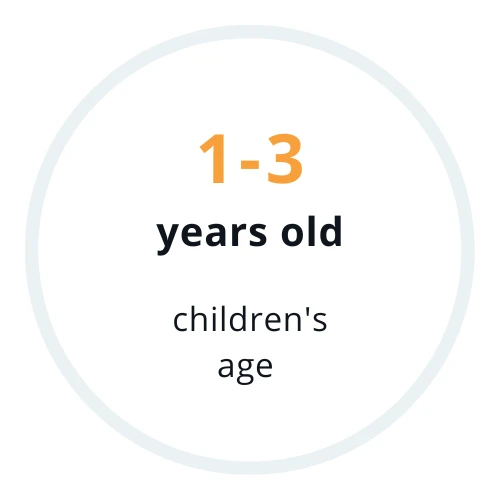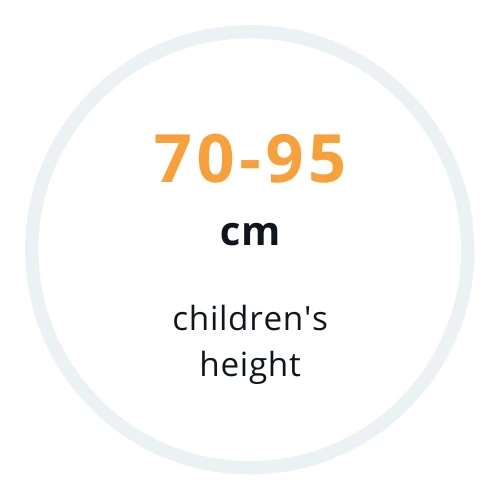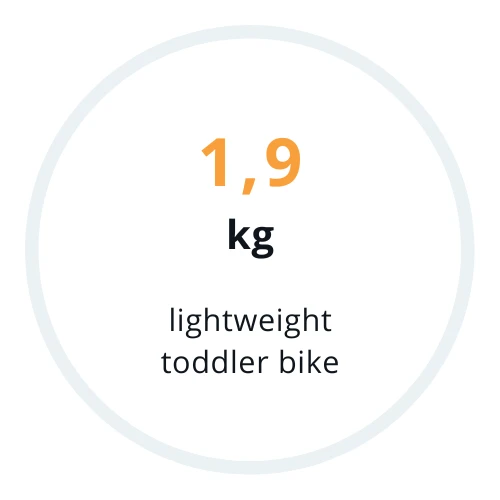 Three wheels for more stability and a better riding experience
The Model S has three wheels overall. It is slightly unstable, but at the same time giving your child more safety than a two-wheeled bike. And that's exactly where its main advantage comes in. The child is not scared of falling off, but still has to keep more stability than on a conventional plastic bike. This will help easy switching to a single-track bike later on. What makes Model S unique is the layout of the wheels - two in the front and one in the back. This makes it easier for little riders to get on and off the bike and also gives more space for their legs when pushing off. Your little one can go on adventures and enjoy freedom of movement.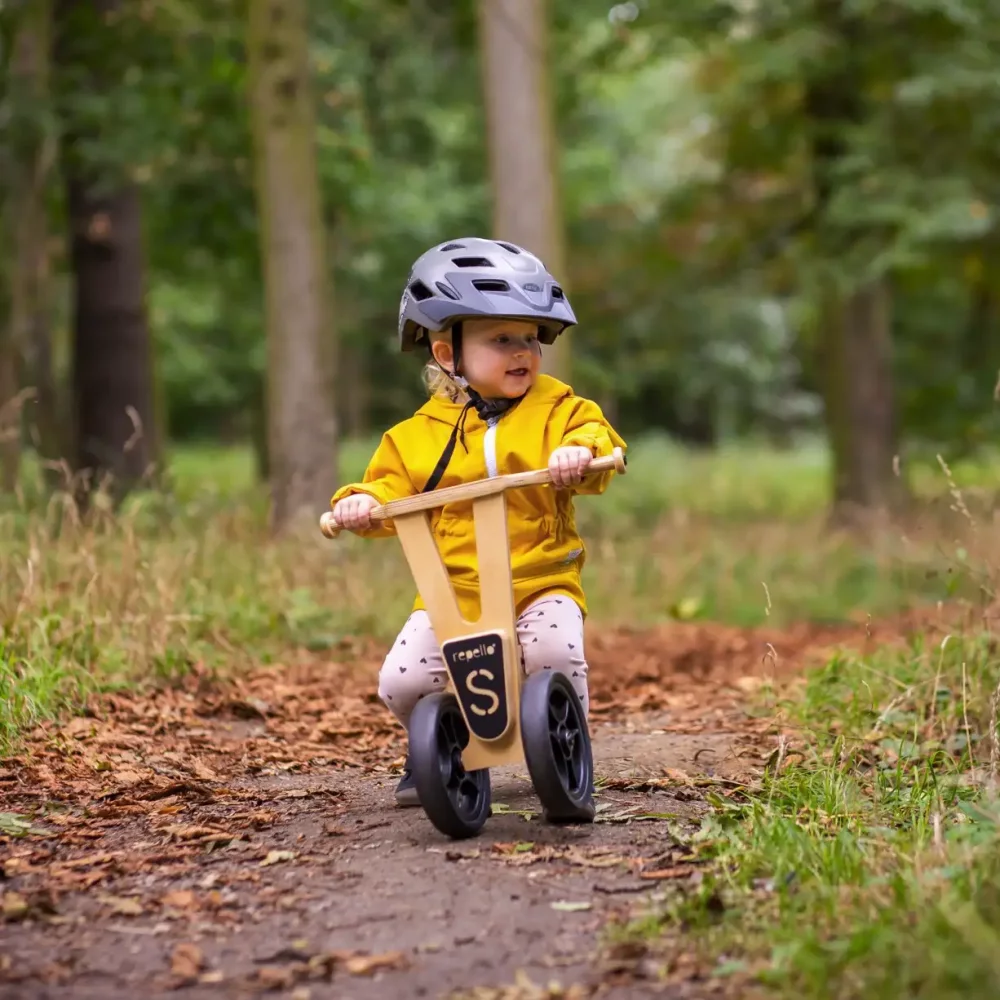 Material that reduces vibrations and undesired sounds
We've used soft wheels on the Model S, which are maintenance-free. Together with the softly padded seat and handlebar grips, they reduce vibrations and unpleasant noises so typical of conventional plastic bicycles. You'll never have to listen to the crazy sounds like a truck with plastic garbage being unloaded again :)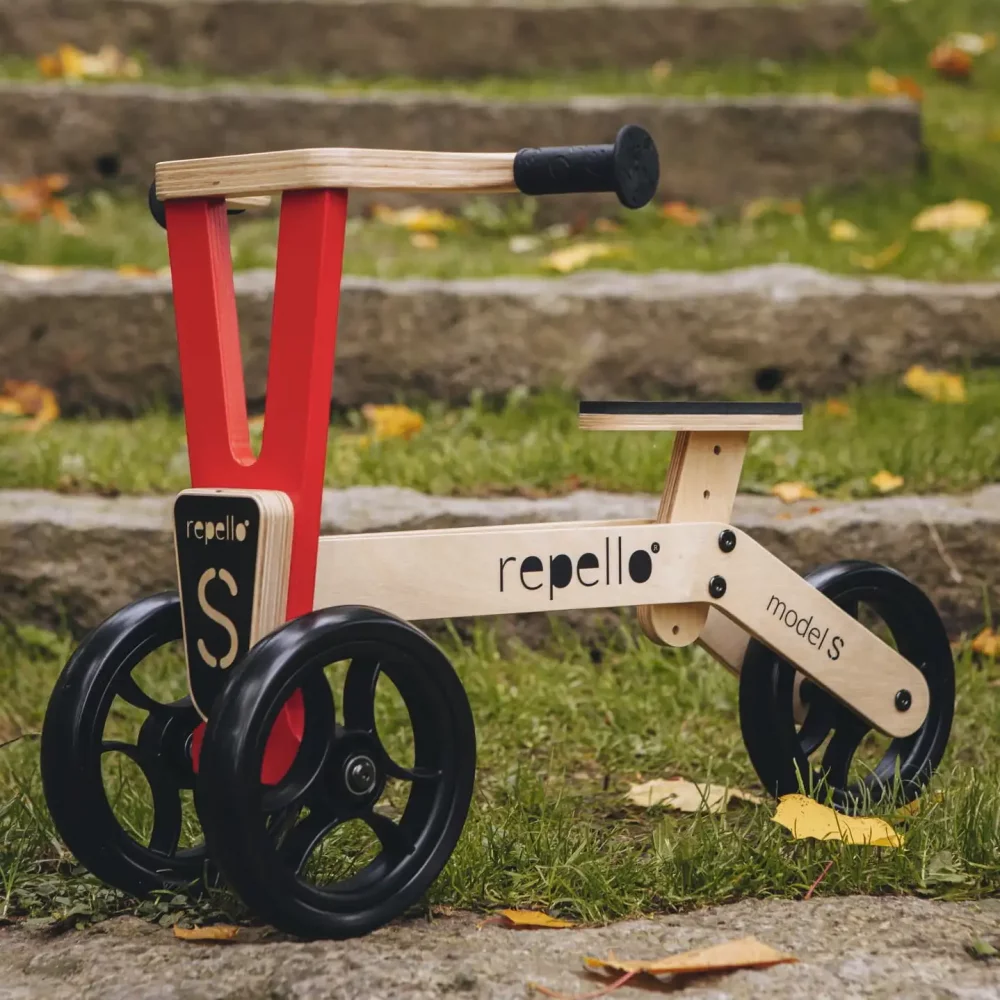 Easy handling for the toddler and lightweight luggage for the parents
The Model S wheels are all equipped with high-quality ball bearings for simple control of the vehicle. The light weight also contributes to the easy handling - the bike weighs just under 2 kg. With qualities like these, riding is a piece of cake and your up-and-coming cyclist will be happy to do it completely alone. And you'll be happy with the low weight when you need to get up to the fifth floor without a lift.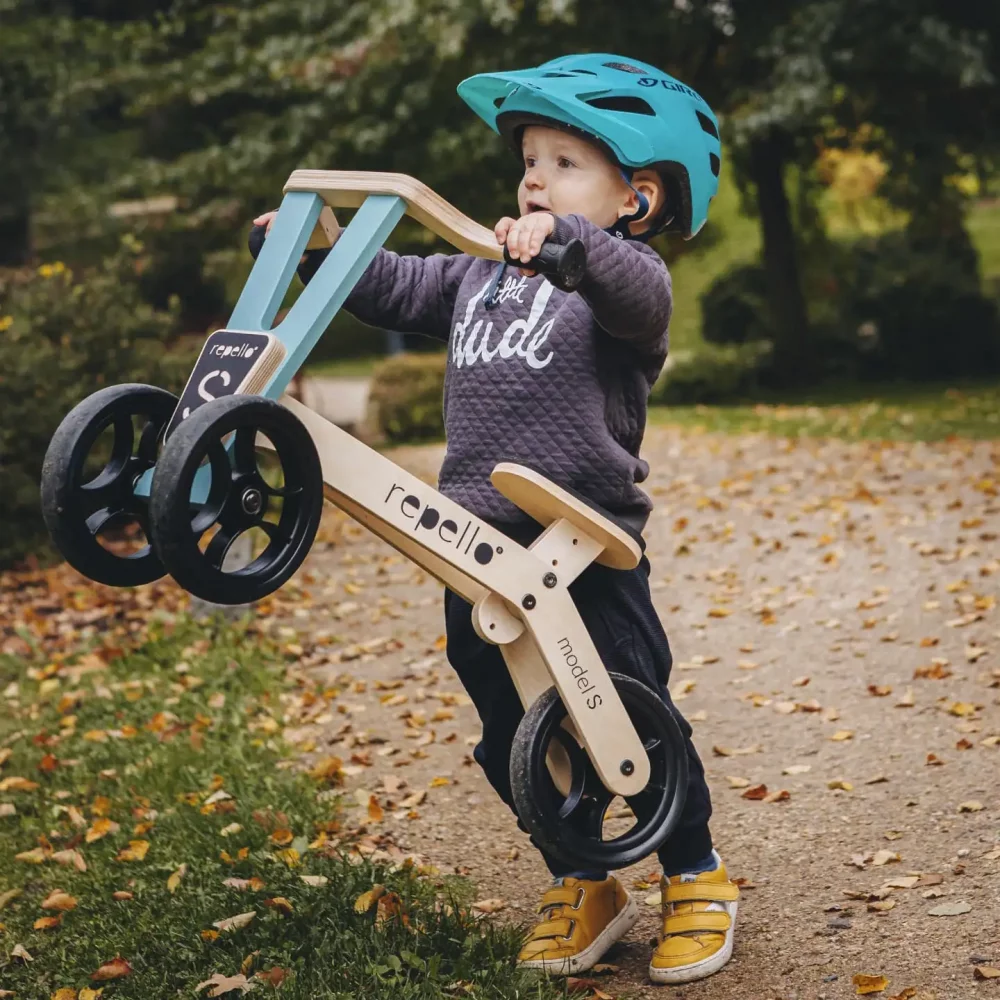 The child will not "grow out" of the bike
While competing pushbikes usually have only one seat position, you can adjust the height of the seat on the Model S. As a result, our toy is suitable for children from 1 to 3 years old and you don't have to buy several sizes of balance bikes. You'll save your wallet, household space and the Earth. After all, how many unwanted goods, not to mention plastics, are ending up in rubbish landfills every day. Moreover, your child won't get so bored of the Model S. Once a little one experiences the ride for the first time, it wants to ride again, further and for as long as possible. Get ready, from now on, you won't be walking, but riding our trike.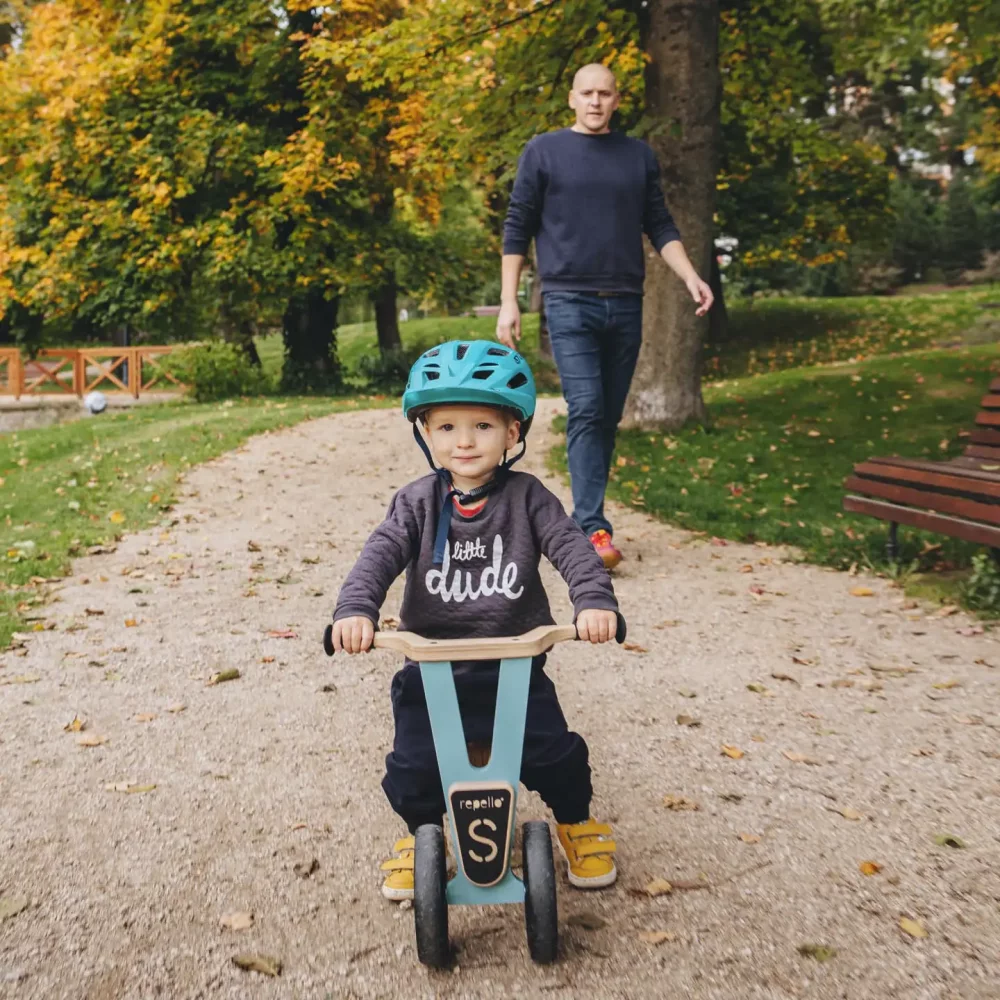 The ergonomics provide a safe ride and correct posture
When we designed the Model S, we had the healthy development of the little ones in mind first of all. That's why the dimensions and the overall geometry of the Model S have been tuned so that children sit upright on the bike. This not only protects their spine from harmful vibrations, but also makes them tired after a very long time. The handlebars are also an important safety feature, as they do not steer over when hitting bumpy terrain. In addition, we have designed their diameter so that the grip is comfortable even for a small child's hand.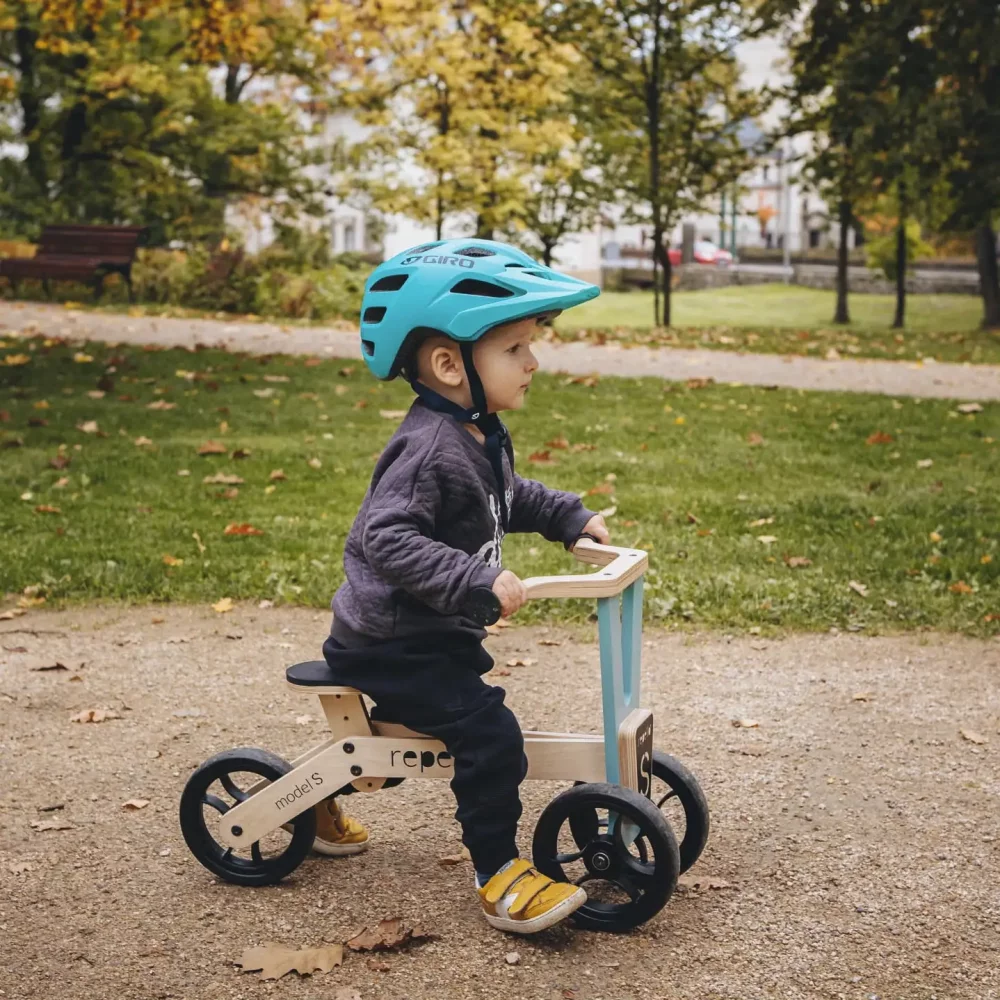 Czech production from durable materials 
The balance bike is made of high-strength birch plywood, which gives the toy great functional and aesthetic properties. Moreover, wood is a sustainable material that is environmentally friendly, which is why we have chosen it as the main material for all our toys. We use aluminium alloy for the steering pivot and plain bearings to guide it. This combination of durable materials and advanced design provides the Model S with a long service life. And, if necessary, easy to repair.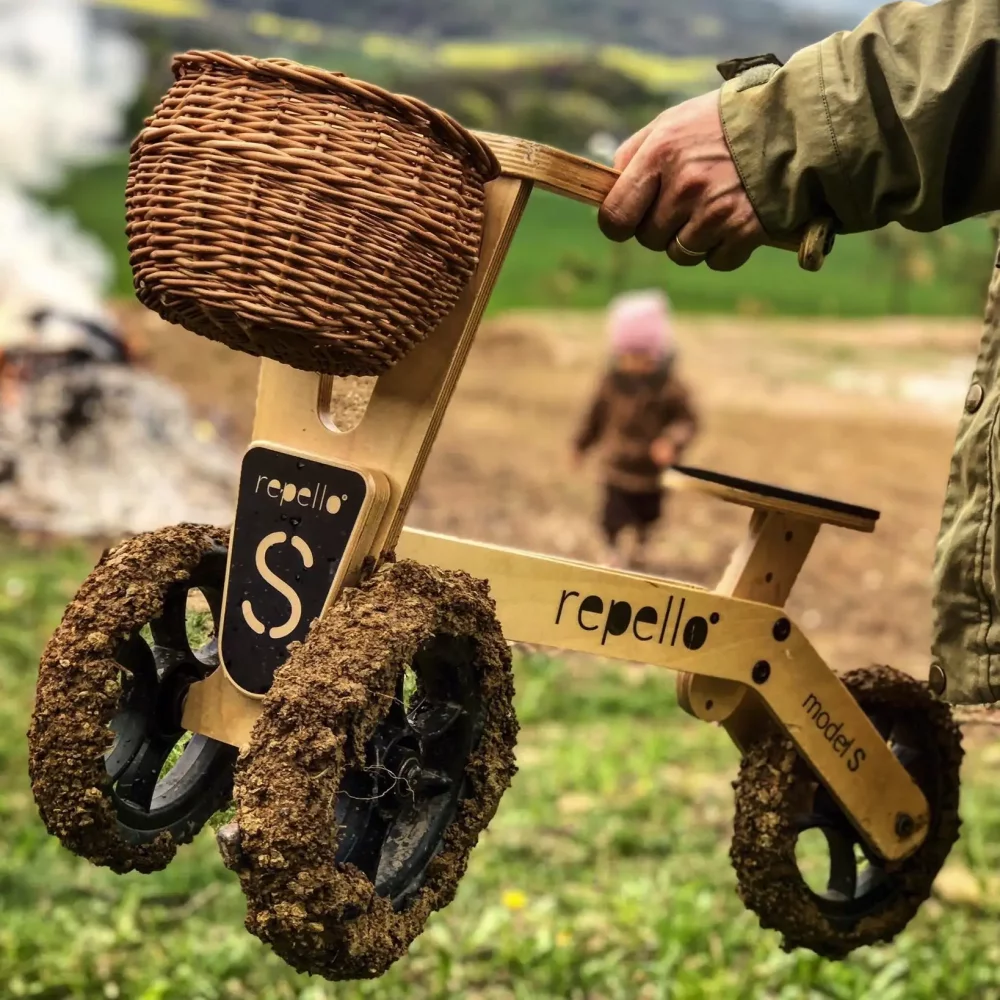 Model S - dimensions in milimeters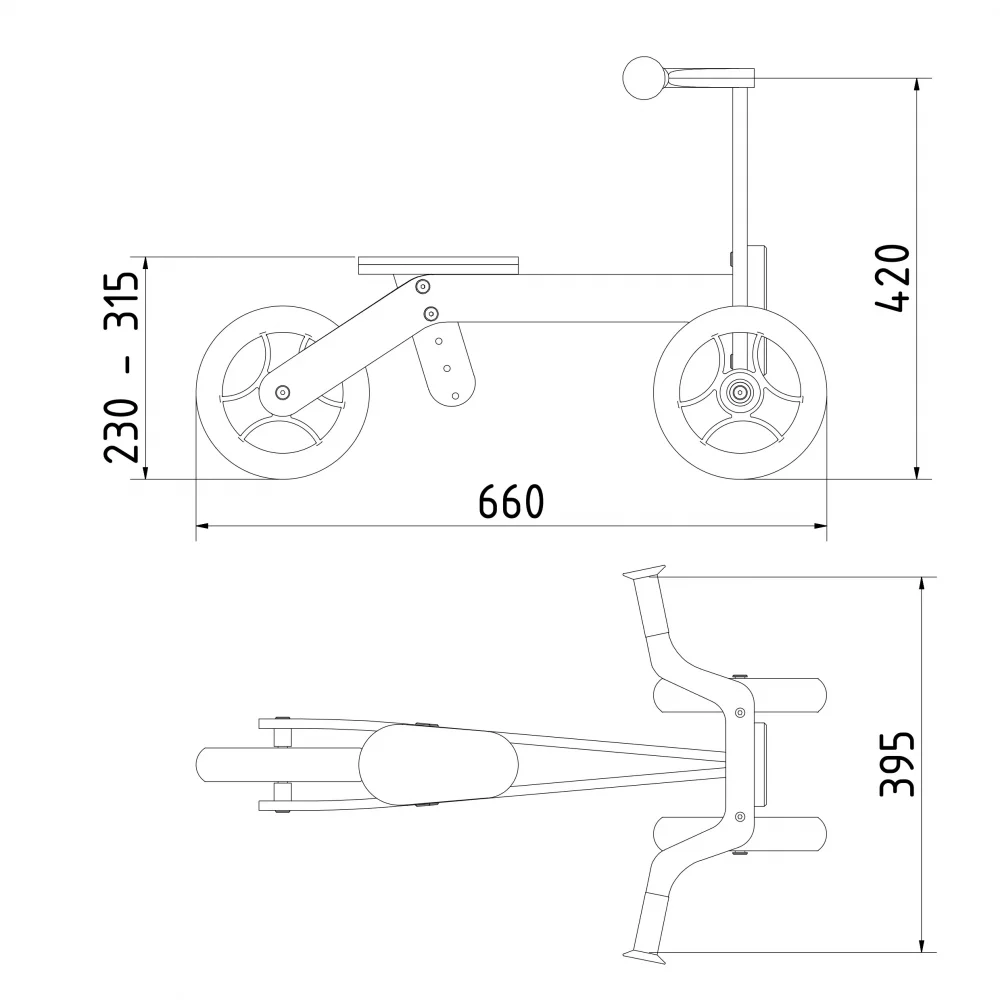 What's in the box
Partially disassembled balance bike.
Tools for the complete assembly.
Instructions for assembly and use in English.
Detailed specifications
Balance bike weight: 1,9 kg.
Maximum balance bike load: 20 kg.
Package dimensions: 145*345*570 mm.
Complete package weight: 2,6 kg.
Safety
Safety is verified by the independent testing and certification authority ITC Zlín Czech Republic.
CE - complies with the requirements of the EN 71 standard for toy safety.
Notice
Our products are made of wooden material, which might have a different tone than in the photos. If the product is lacquered, dark and light tones may alternate (especially on the edges). If the product is painted, the wood texture may be slightly evident (especially with lighter colors). This gives the product a unique natural character. The color tones may be slightly different compared to what you see on your monitor.
RePello toys are special in many ways - but they all have a consistent core value. They bring a pure and natural joy of move and play. Children enjoy the lightweight, instinctive and easy-to-use design of the toys and are often unable to keep their hands off them. They are not limited by uncomfortable vibrations or the fatigue caused by too much weight and poor ergonomics.